Pakistan has stopped US drone flights from a remote airbase in the western province of Balochistan and ordered US personnel to vacate it, the defence minister has said.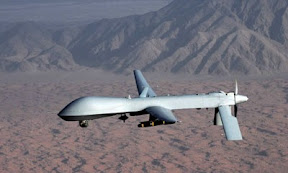 "We have told them to leave the Shamsi airbase," Chaudhry Ahmed Mukhtar said on Wednesday night, adding that US personnel had already started to shift equipment from the base.
A US embassy spokesman declined to comment, referring queries to Washington.
Shamsi is located in a remote valley 350 miles south-west of Waziristan, where most of the CIA-directed Predator and Reaper drone strikes against al-Qaida and Taliban targets take place.
The closure of the base is a blow to a covert programme that has killed up to 2,500 people since its inception seven years ago and forms a cornerstone of President Barack Obama's strategy to flush al-Qaida from its Pakistani havens.
Full Article >>>
Location:Islamabad